"Being in the moment, being content where you are is where true happiness can take hold of you. Dancing requires that kind attention to the present. That's why I love to dance. I am exactly what I am at that moment. It is my bliss!" --Amy Garcia Phillips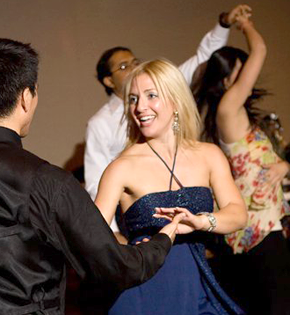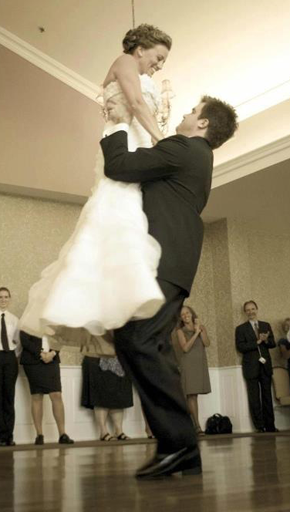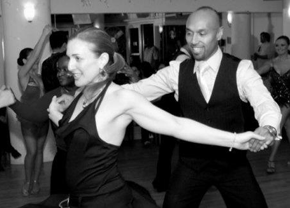 Amy Garcia Phillips graduated in 1997 from Kutztown University with a Related Arts degree in Dance, Theatre and Music. In August of 1997 she began a 4 year training program in the Feldenkrais Method, achieving her Certification in 2001. She began her Latin and Ballroom career in 1998 as an Instructor at Fred Astaire Dance Studio in New York City. At that time she began competing in the Professional American Rhythm Division, placing within the top 4 in her first competition.
In May of 2000, Amy joined the staff at Paul Pellicoro's DanceSport Studio in Manhattan as an all-around Instructor. That is where she really fell in love with authentic style Salsa/Mambo. In addition to becoming a popular instructor, Amy began competing in the Hustle and Salsa circuit. Placing 2nd in 2002 and 2004 in the Professional Salsa Division at the International Hustle and Salsa Competition in Miami, FL. In 2004, Amy began expanding her role at DanceSport and became both College Student Program Coordinator and The Wedding Program Coordinator in addition to teaching.
While being an active member of DanceSport's illustrious staff, Amy had the opportunity to perform at venues all over the New York Metropolitan area, including Lincoln Center's Mid Summers Night Swing, and various nightclubs. She participate in TV segments featured on Late Night with David Letterman and Good Morning America to name a few. She was a featured dancer in a commercial for WB11. She was also one of the featured instructors in YES network's 'Road Trip' contest in 2007. She performed at the Detroit Salsa Congress in 2002 as well as at the International Hustle and Salsa Competition in Miami, FL almost every year from 2001-2008 (including once while she was 5 month pregnant). Amy has been quoted twice in Life and Style Magazine as their Dance Expert and had a featured article, Save Me the Waltz, in New York Magazine's Fall 2005 Wedding Guide.
From Fall of 2000 to Spring of 2008 Amy coached NYU's Latin and Ballroom Dance Club. During her tenure the club expanded and experienced great success. She still makes guest appearances as a judge for their annual competition, Top Hat and Tails.
Spring 2009- Fall 2010, Amy was commissioned to create a Salsa choreography for Kutztown University's student modern dance company, The Lenhart Dance Company.
She has taught Master Classes for Kutztown University, New York University and the Chapin School.
Amy has had the great honor and pleasure to dance with and/or train under such greats as the Late Cuban Pete and Barbara Craddok, Billy Fajardo, Paul Pellicoro, Eleny Fotinos, Frank Hatchett, Mariana and Taliat Tarsinov, Kelvin Roche and Lori Ann Greenhouse, Tatiana Keegan, the late Artie Phillips, and many more.
Recently Amy has become a board member of Rahway Arts District Inc. whose goal is the promotion and development of Rahway, NJ's downtown arts and business district. She has also done some promotional work for the opening of the illustrious Hamilton Stage in Rahway.
Amy is also the mother of 2 sons who love to dance! Her favorite dance partner is always her husband (who is not a dancer).
Latest news
» via Twitter
Come check out our adult group lessons at beautiful Hamilton Stage.
» Click here for more info.
Featured in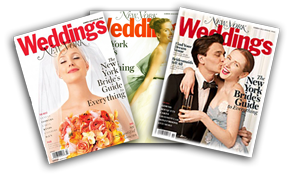 » Save Me the Waltz
» Tips for wedding couples
Contact me
» Email: amy@contentodance.com
» Twitter: @contentodance
» Facebook: Contento Dance
Watch
Offering instruction in:
All Latin and Ballroom Dances
Specialties: Salsa and Wedding Dances
Swing/ Lindy Hop
Group Instruction
Private Instruction
...in the Rahway, NJ area.